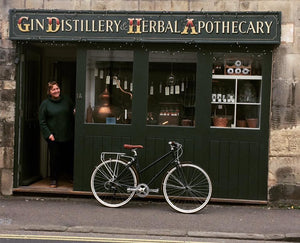 Bath Botanical Gin Distillery & Herbal Apothecary
Located in Bath's hidden high street just behind the train station, Widcombe, the Bath Botanical Gin Distillery & Herbal Apothecary stands as one of the gems of the cities craft gin experience.
Sue Mullett is a qualified Medical Herbalist (BSc), distiller and owner of Bath Botanical Gin Distillery & Herbal Apothecary. After studying the history and benefits of bitters and herbal aperitifs Sue began experimenting with making her own Herbal drinks and tinctures by steeping various herbs in alcohol for their taste and medicinal benefits.
Bath Botanical Apothecary and Distillery draws inspiration from the rich history of Aperitifs, Digestifs, Bitters and Spirits and their varying uses as medicinal drinks throughout history, resulting in a range of high quality small-batch seasonal Fruit Gins, the Botanical No. 1 Gin, Cocktail Bitters and Herbal Elixirs. Wherever possible ingredients are locally sourced, organic, biodynamic and hand-picked. Each bottle is created, filled, waxed, labelled and numbered by hand. 
From the delicious #1 Gin to the seasonal special editions we are proud to stock the range. The craft gin distillery here in Bath is also the only Bath produced gin that has always been made here lending a true authenticity to the products.
The Distillery operates limited opening hours so tours are usually only available at the weekend. As the distillery is a one person operation everything is on show in the shop. The beautiful copper gin still is the centerpiece of the room and well worth a detour on your visit around Bath.
---