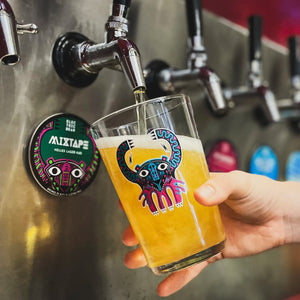 Electric Bear, Bath's Craft Brewery
The name of the brewery, which is based on the edge of Bath, was named after the old 19th century Bear Brewery that used to stand on the corner of the Wellsway, in Bear Flat and was described in 1893 as "undoubtedly one of the most noteworthy breweries in the West of England". Electric derives from how they first powered their brewhouse kettle - AKA the 'copper' - the vessel used to boil the wort during brewing to create all that lovely craft beer.


Electric Bear aspire to make great beer that brings some of that life-affirming pleasure to people. They have put Bath on the map for craft beer in recent years and have joined the new wave of craft brewerys around the UK, even bringing many of them here for collabs.

They aim to produce consistently great tasting beers of all styles from easy-drinking ales to highly-hopped, high strength beers – from their core range to experimental special releases.

Now owned by Bathonians, David Horner and his wife Mary. David has nurtured an ambition to own a craft brewery for decades and has brought a new passion to the brewery in its 7th year. They have recently rebranded the beers and refurbished the taproom ready to welcome guests every week for the many events and food stalls they host there. A brewery tour is a perfect way to while away the afternoon down on brassmill lane, a 20-25 min walk from the city center. You can find out more about the brewery and tours here.
---